The Red Lodge Music Festival featured John David Earnest's Chimera Waltzes written for flute/bass flute, clarinet, and piano in a concert June 3, 2017. The performance highlighted the musicianship of the Scott/Garrison Duo (Shannon Scott, clarinet, Leonard Garrison, flute) along with Melissa Loehnig Simons on piano.
The Red Lodge Music Festival marked its 54th season. Located just one hour from Yellowstone Park, students experience high quality education with directors, musicians, and professors from across the nation.
The Scott/Garrison Duo recently included Chimera Waltzes on a CD recording from Albany Records. More information here.
The performers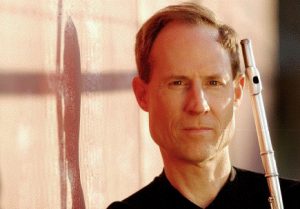 Leonard Garrison is Professor of Flute and Associate Director of the Lionel Hampton School of Music at the University of Idaho, flutist in The Northwest Wind Quintet, The Scott/Garrison Duo, and the IWO Flute Quartet, and Principal Flutist of the Walla Walla Symphony. A recipient of an Idaho Commission on the Arts Fellowship, a President's Mid-Career Award at the University of Idaho, and 2016 prizes as Instrumental Soloist and in Chamber Music from The American Prize, he is Artistic Director of the Red Lodge Music Festival in Montana and faculty at Blue Lake Fine Arts Camp in Michigan. He has recorded nine critically acclaimed CDs for Albany Records, Capstone Records, and Centaur Records and been a soloist on National Public Radio's Performance Today, winner of the 2003 Byron Hester Competition,  concerto soloist on both flute and piccolo, and a frequent performer at National Flute Association conventions. Leonard holds a Doctor of Music degree from Northwestern University, where he studied with Walfrid Kujala and Richard Graef. He received Master of Music and Master of Arts degrees from Stony Brook University, studying with Samuel Baron. His Bachelor of Music is from the The Oberlin Conservatory of Music, where his teacher was Robert Willoughby.
Shannon Scott is Assistant Professor of Clarinet, Music History and clarinetist for Solstice Wind Quintet at Washington State University School of Music. In summers Scott teaches and performs at Eastern Music Festival in North Carolina and Red Lodge Music Festival in Red Lodge, Montana. From 1988 to 2006 she was principal clarinetist of the Tulsa Opera Orchestra and the Tulsa Philharmonic Orchestra. Scott holds degrees from Juilliard, Ecole Normale de Musique de Paris, Conservatoire Regional Marcel Dupre, Yale University and Northwestern University. Member of the Scott-Garrison Duo (flute and clarinet) with husband Leonard Garrison, their CDs Barn Dances and Perennials are on the Albany Records label.
Active as a solo pianist, chamber musician and collaborative performer, Dr. Melissa Loehnig Simons is currently on faculty as Assistant Professor of Music in Piano and Theory at Central Methodist University in Fayette, Missouri. She spent five summers employed as a staff pianist at the American Institute of Musical Studies (AIMS) in Graz, Austria.  She now spends her summers as a part of the piano faculty for the Red Lodge Music Festival, held in Red Lodge, Montana.  She has also been chosen from a national field of applicants for the Opera Theatre Music Festival of Lucca (Italy), the Baldwin-Wallace Art Song Festival, and for the highly competitive Songfest Program in Malibu, California. Dr. Simons has performed throughout the United States, including recently with Choral Arts, a semi-professional chorus based in Seattle.
Source: Faculty Recitals | Red Lodge Music Festival
Please follow and like us: